Gidday eh? Grab yourself a Timmy Ho's and take a minute to take a little peek around my blog.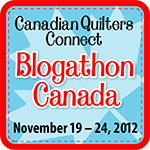 I'd really like to give a special shout out to
Sew Sisters Quilt Shop
and their
blog
for conceiving and sponsoring this great blog hop! How wonderful to showcase Canadian quilters and crafters! I don't know about you, but I've seen a lot of new (to me) blogs this week, and I'll be following many of them!
From day 1 in BC, with Felicity at
Felicity Quilts
and Cathy at
Blueberry Patch
introducing the likes of
Cynthia Frenette
(of Kona Modern Quilt fabric fame!) to Krista at
Poppyprint
and all the other quilters in BC (did you check out Paul at
Paul's Block Party
? Wow!).
Day 2 brought us to the other coast, with Nova Scotia being hosted by Jeanette at
Stamp*Stitch*Create
and Holly at
Through My Window
hosting for New Brunswick. Incredible quilter/crafters on the East Coast too!
Did you see Jennifer's work at
Sister of the Brush
or Sheila's at
Sheila's Quilt World
? (Her postcard project work is amazing!)
Day 3 and we're off to Alberta with Shena at
Apple Pie Patchwork
and Saskatchewan with Patti at
Retired to Quilt
(and I'm so glad she did! what fun it is to follow Patti! Did you see her coin purses--with fabric of toonies & loonies she printed herself! Fantastic.)
Halfway through the week,,,and I'm going to stop here for now. I'll do part 2 later on today.
Thanks for stopping by.
Mary