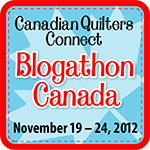 I hope you checked out the wonderful Canadian bloggers from British Columbia on Day 1 of Blogathon Canada. Yesterday's hosts were
and
You'll find Cynthia Frenetter (Kona Modern Quilts Fabric) and Sonja of Artisania (paper piece pattern designer extraordinaire amongst the B.C. quilters featured yesterday.
Today's hosts are from Nova Scotia and New Brunswick, on the other side of the country & the Atlantic Ocean. They are
and
Go give them a visit,,,I'm sure you'll fall in love with at least one blogger on the list, and no doubt someone will have some beautiful pictures of our Maritime vistas.
Mary