November 18 2012 marks the kickoff of
Blogathon Canada
, a celebration of Canadian quilting blogs sponsored by
Sew Sisters Quilt Shop
, a terrific quilt store based in Toronto, Ontario, Canada.
Sew Sisters has a huge line of fabrics, from novelty fabrics, to batiks to Kona Solids and everything else you could possibly want need. Their Kona club has delivered wonderful colour treats (including some of the new colours!) to my door since they started their program, and I look forward to seeing what this month's selections will be. I hope you check them out,,,their customer service is amazing!
My day on the Blogathon will be Saturday, November 24, and there may be a giveaway of some of that Kona involved,,,,,just sayin'.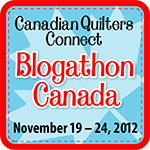 I hope you'll visit all or at least some of the bloggers featured this week,,you'll find some amazing talent and some very funny quilters.
Mary